How to Prepare Questionnaire for Market Survey
They say a successful market survey is many ideas collectively put into practice to derive meaningful results that matter. While part of the statement is true, what most thinkers often ignore is the fact that a good survey that derives value is mostly about preparing wonderful questionnaire that allows you to learn what consumers want, boosts their loyalty and builds relationship with them so that as a brand you can sustain and survive in this ever-evolving world populated with challenges.
Writing about questionnaire is not done if we only cover how to prepare it well. First, we need to understand some of its basic concepts. So, here we go:
Writing an effective questionnaire is not the easy task of a beginner. It requires calculative effort and a solid understanding about what matters in the market. Usually, it requires understanding of these four basic concepts for a writer:
Purpose of the interview - Knowing the difference between self-administered questionnaires vs. interview-administered questionnaire
Keeping a flow - Learning which questions to be asked in the beginning, middle and at the end
Phrasing matters - Learning how to structure the questions in a way that they yield better answers
Brevity - Keeping survey questionnaire short is essential, however without making it look a hurriedly-job done
Other than understanding these basic concepts, a writer should keep into mind these below-mentioned deciders while composing questionnaire.
These deciders are presented in the form of questions. A writer should ask these questions to himself or herself before preparing a survey questionnaire in order to get better answers and values.
What are my survey objectives?
What do I need to learn from my respondents in order to make the survey objective?
Which are existing findings and survey in my area of survey?
Which type of answers should I collect?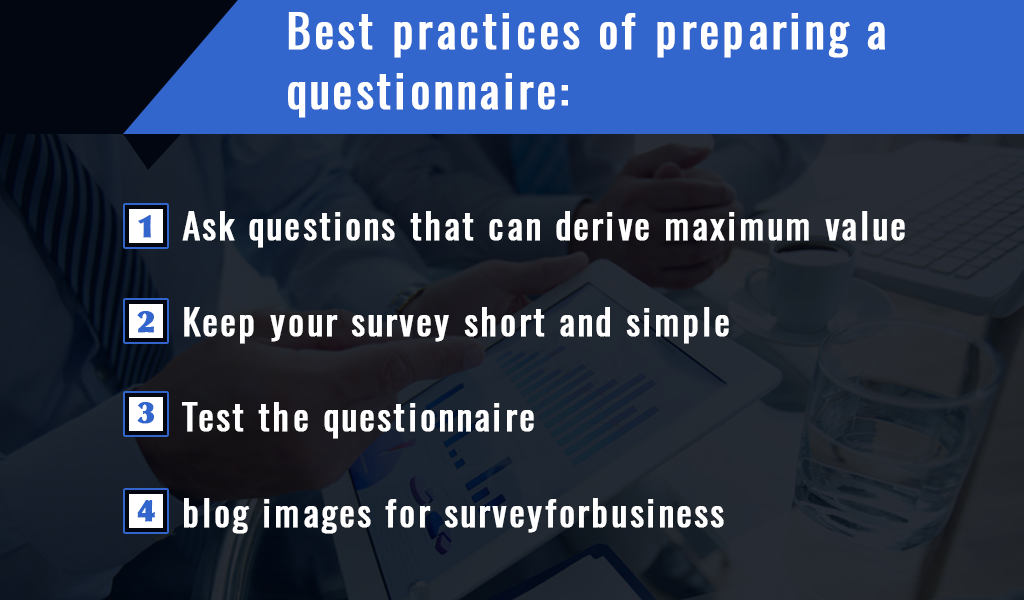 Some of the best practices of preparing a questionnaire:
Ask questions that can derive maximum value
Begin survey with generic questions and then slowly move to specific questions. Make sure to ask important questions in the beginning and less important questions towards the end of the questionnaire. The interest of the survey attendant tends to decrease as the survey nears to close.
Keep your survey short and simple
Test the questionnaire
So,
Make Sure To Write Small Questionnaire Using Easy To Understand Language
, do not let respondents make think too much to answer, allow a number of ways for respondents to answer, do not make biased questionnaire. The market is populated with so many scope and audience groups that if you pinpoint the proper audience profiles and prepare a holistic set of informed questions, it is factually simple for people to answer.
Categories
Stay Connected
Archives
Copyright © Survey For Business. All rights reserved.